This website introduces you to Oeuf-en-Ternois, a village in Northern France situated approximately in the middle of the triangle formed by London, Brussels and Paris. Oeuf is part of the Ternois region -basin of the river Ternoise- which in turn is part of the second most Northern département of France: Pas-de-Calais.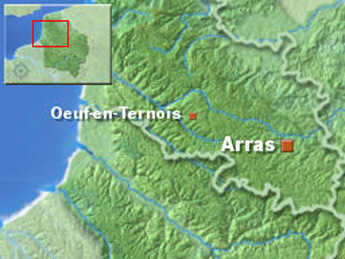 The area around Oeuf is somewhat hilly with little streams running through it. Agriculture is the main economic activity with crops like beets, cereals, potatoes and flax. Livestock farming is also known but rarely on an industrial scale. Most villages in the region have between one hundred and four hundred inhabitants (Oeuf: 253). Without exception the villages are very old, often dating from pre-medieval times.
There are several competing theories as to the origins of the name Oeuf. Some see a relation with the Latin ovum or ovis (egg, sheep), the latter possibly a reference to the once important sheep farming. A more credible theory may be that the name is of Germanic origin and shares its roots with the word house in English. This theory seems to be supported by the fact that Oeuf's inhabitants are called Oesiens.
I am one of the eight non-French Oesiens (four Brits, four Dutch) who live in the village part time, proof that the region has already been discovered by foreigners looking for a second home. Tourism is still little developed but there certainly is touristic potential. The tranquility and sheer space will impress every city dweller. The landscape is beautiful and ideal for walking and cycling.
For my guests I once made a list of things to see and do in and around Oeuf. This website has developed from that list and is in fact a tourist guide for Oeuf and its surroundings. As such it offers an addition to the official websites for the Ternois and the adjacent region of Les Sept Vallées.
Several fellow villagers kindly supported me in writing it. First of all our former mayor, Georges Brogniart, who provided me with an unexpected wealth of documentation. An important part thereof consisted of texts and illustrations gathered for the exhibition Oeuf sur le chemin du temps some years ago in our own village school. Those responsable for that exhibition will recognize a thing or two on this site. Henri Outrebon was my main source of information on Oeuf during the Second World War. Mrs. Lemoine, who sold me her house in 1997 and who since then has become a regular visitor, enlightened me on farm practices and village life in the decades following the Second World War. Kathy Sims, Oesienne of English origin, corrected the English translation. Finally I must mention Anna-Titia Nysingh who made the French translation. My heartfelt thanks to all.
Meanwhile the sole responsibility for the contents of this website lies with me. Inevitably it will contain errors and omissions. Other information might get out of date without me noticing it. I highly appreciate being informed of any error you might find, preferably by e-mail.
Please enjoy our village and its beautiful surroundings!